There are plenty of breathtaking choices when it comes to a truly magical destination wedding. However, this is precisely why it can be so challenging to make the final decision. If you and your spouse-to-be have been considering a destination wedding for your big day, the following list of top five wedding destinations can definitely come in handy.
Guatemala
Not that many people realize just how beautiful Guatemala is, especially when it comes to wedding opportunities. It's often said that Guatemala is the place where magic was born, and you better believe that the looks of it won't disappoint you in this regard. In general, Lake Atitlan and the UNESCO World Heritage colonial city of Antigua are two majorly popular locales in Guatemala that can make your wedding day fairytale-like.
Ireland
If you're looking for a romantic setting filled with beautiful nature, Ireland is definitely the right choice for your destination wedding. You have the freedom to choose from antique castles and manors to countryside and clifftop hideaways, and plan the whole wedding on the Emerald Isle in the most magical, whimsical and joyful manner, characteristic of the place. Not to mention that your guests can easily enjoy the time here and explore more on their own.
Australia
Australia, and especially Sydney, is one of the most popular wedding destinations, and for a good reason. For starters, Australia offers plenty of attractions and incredible picturesque sights for both the guests and the bride and groom. For example, Sydney is known as a city of a thousand beaches, which is why beautiful beach wedding venues in Sydney have something for everyone. What's more, the city of Sydney still has a ton of gorgeous hotspots for visitors to explore, which makes it a truly amazing place to say your faithful "I do's".
Italy
A couple simply can't go wrong with Italy when it comes to picture-perfect wedding destinations. After all, there are so many places to choose from such as Florence, Tuscany, Positano, Rome, Sicily, Lake Como, Venice, etc. However, this is not all. If you want something truly magnificent for your wedding day, Ischia is a natural beauty you may want to consider. This is the volcanic island in the Gulf of Naples that offers amazing resorts as well as proper ceremonies and receptions for various events. You can also opt for private bays next to the sea for the ultimate romantic experience.
Morocco
Finally, if you're looking for a place that has an adventurous and vibrant vibe to it, Morocco and its city Marrakech are definitely worth checking out. The mix of magical and bohemian feels and the city's amazing architecture and gardens create a truly marvelous setting for starting a new chapter of your life together. Of course, it's relatively simple to find the perfect oasis for your wedding in Marrakech, as the city has been known as one of the most popular celebrity wedding destinations for years. Luckily, you don't have to be a celebrity in order to enjoy it.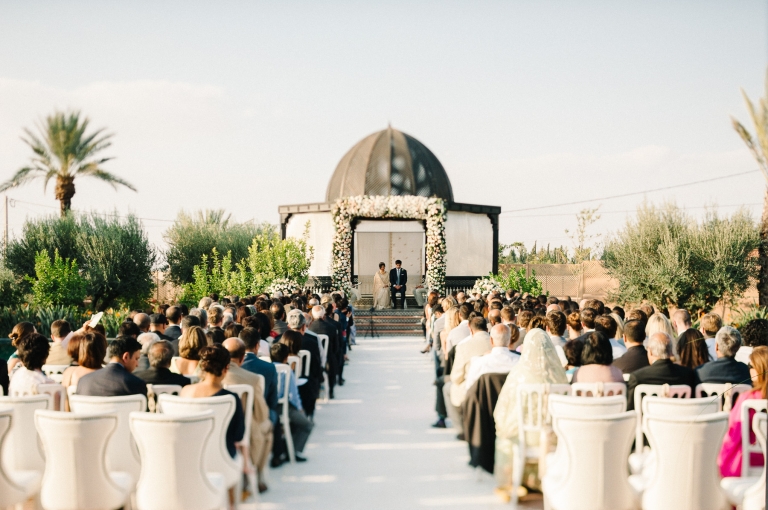 It's true that destination weddings may require a bit more planning and organization on your part. However, if this is something you've been dreaming about for your big day, it's also absolutely worth it! Just remember to weigh your options and opt for a destination that fits your love perfectly.